"Removal: A Short Guide to the United Kingdom Immigration Detention Estate—is the culmination of a 2-year project that visually documents every facility in the United Kingdom that is used to hold, detain, and ready for deportation immigrants taken into custody under immigration control legislation. It is a compelling and unsettling piece of work presenting photographic images that are simultaneously haunting and banal. The images convey the ease with which detention is hidden in plain sight in gritty urban as well as idyllic rural landscapes throughout the United Kingdom. In effect, Stothard's work brilliantly captures the ways distancing and proximity are aligned and, together, produce indifference to a system where people are separated from family, community, and, in many cases, literally removed from the state." 
Deidre Conlon
Associate Professor of Critical Human Geography
University of Leeds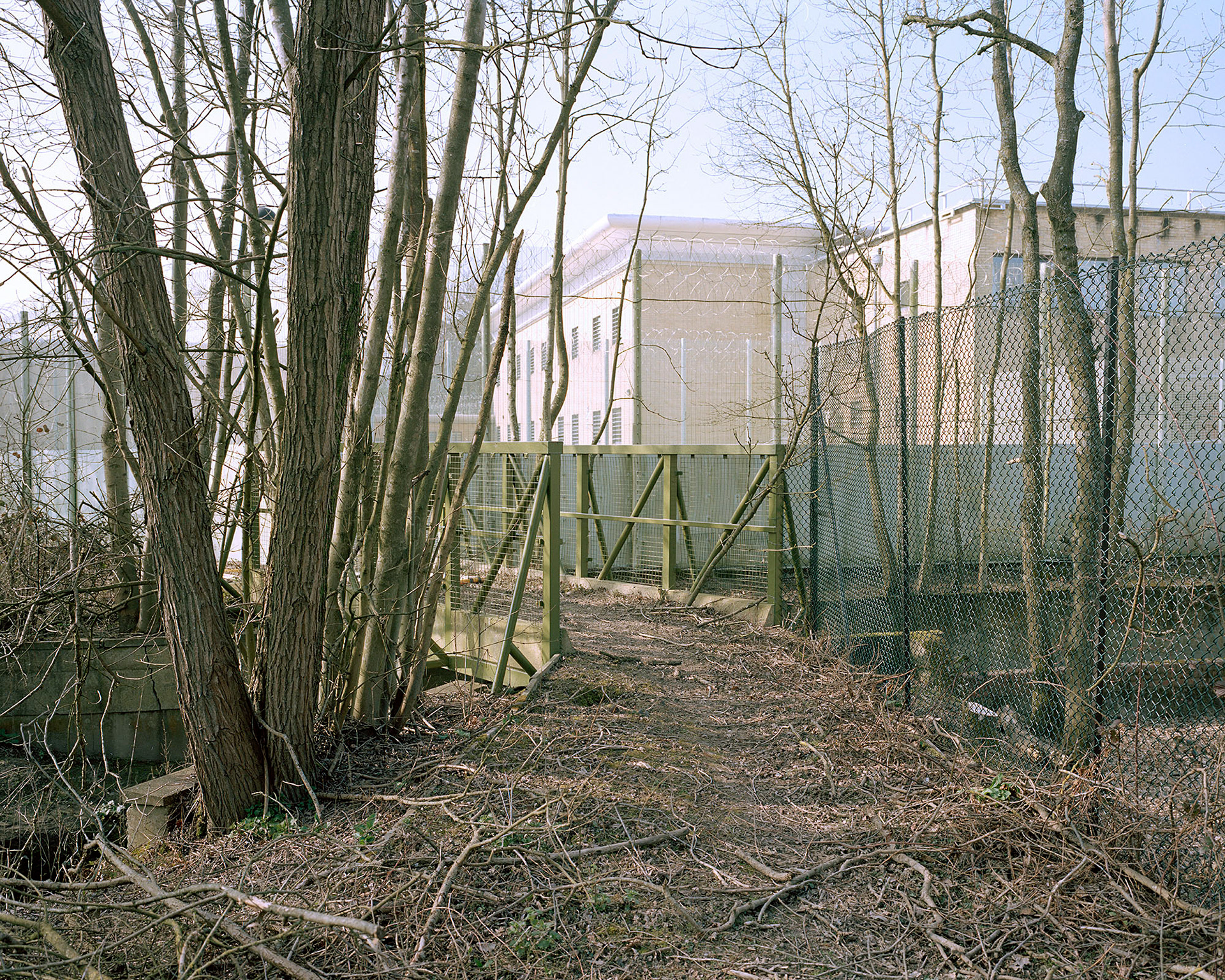 Business parks house a mismatch of organisations. At Twinwoods Business Park, near Milton East, Bedfordshire – a small village about 60 miles north of London – one can find, among other things, Bedford Pets Crematorium, an office of Bedford Borough Council and the headquarters of a company that offers indoor skydiving. One might assume the business park exists to group what is otherwise unrelated.

This collection of unremarkable buildings mirrors their function; a place for those activities that somebody needs to perform, somewhere, at a certain address, but not necessarily within our field of vision. But in the corner of the park is a stitch, one that marks the steady knitting together of private business and government institutions within the evolution of contemporary capitalism. Into the resulting mesh – the space that most people in the United Kingdom live and move freely within every day – a small pocket of space, which humans cannot leave, or lock eyes with the rest of us and explain who they are, has been sewn.

The business park's varied tenants epitomise the adaptability of such buildings. Underdetermined by their physical structure they are easily appropriated and divulge just a few clues few clues as to the practices unfolding inside. It is within this context that the anomalous space can exist unchallenged. There are other stitches like this elsewhere across the country: on the fringes of rural lanes, within the perimeter of airports, along the exterior walls of former prisons. They can reveal structures that occupy an expected position, normal by design but alien in function, and therefore invisible, preventing passers-by from ever noticing how different the activity they conceal really is.

Over 8,000 people entered immigration detention in the UK in 2016, held for an indefinite period – without criminal charge nor conviction – in secure facilities referred to as Immigration Removal Centres.

The comprehensive project combines photography and writing to observe and interrogate the places in which the Immigration Removal Centres exist, picking at the physical fabric between freedom and incarceration, citizens and non-citizens.